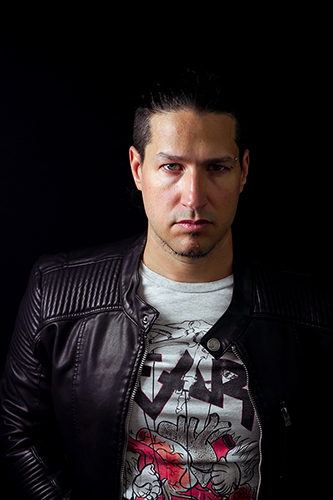 Alejandro Carrera is a Producer / Guitar Player / Mixing Engineer from Guadalajara, Jalisco, México, who is certified as a "Guitar Specialist" since 2012 by Berklee College of Music (Boston). He's the guitar player & producer of Rift Divide (Hard Rock) who released their album officially in May 19 2017.  Alejandro also was part of the prog power band "Fahrenheit" as guitar player and singer. The band released their 2nd EP "Shelter" for their upcoming album "Rain" that will be out in early 2017.
At first Alejandro was focusing on recording Guitars & Bass at his studio, later on, his interest on Mixing & Production led him to learn more, focusing on recording  and mixing other instruments and music productions . His first full album as Mixing Engineer / Producer was released in 2017 and was titled "Rift Divide – Row Beyond". Alejandro works as a Producer/ Engineer specialized in Metal & Rock music.
Since 2013 Alejandro has worked as a session musician for the Loudmouth Studios (South Africa), recording guitars for various of their artist like "Ashley Mark Lane", "Prelude to June" and "Johan van der Merwe"
On February 2015 he was contacted by "Cirque Du Soleil" to give him an invitation to participate in Mexico Auditions, which only a selected group of people attended.
Alejandro has done various videos for the company "Positive Grid" upcoming products. Positive Grid is an international company dedicated to the creation of Guitar Software (Bias, Jamup, Bias FX…), for the IOS and Windows (Bias Desktop)
He was the winner as Best Technical Guitarists Category in Sibelius Fest 2014 (international Guitar Contest Colombia-Mexico-Venezuela)
Through the years he has participated as session musician or as a band member in various bands and projects, like Gerardo Enciso (alternative rock), Gaston Project(alternative rock), Intorment (instrumental Prog Metal), Cruz de Hierro (Prog Rock), among others. Also he has participated in several band tributes for bands like Bon Jovi, Motley Crue, Slipknot, Symphony X, etc.) and has played all around the country.
From 2011 to 2014 he was Director & Instructor in the Modern Music Academy "Muzeik" (Guadalajara, Jalisco) teaching guitar & music theory.